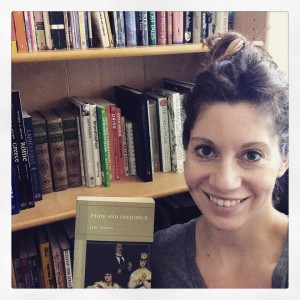 I'm just an über book nerd who's been obsessed with books since before pre-K. Actually, I'm pretty sure I popped into this world and a small library of books poured out after me (to keep me occupied while I was cookin', OBviously).
So one day I stumbled upon this particular book: The Well-Educated Mind: A Guide to the Classical Education You Never Had (TWEM). And I became intrigued. I'd always wanted to read more classics, but never knew where or how to begin. Susan Wise Bauer "provides a clear guide to educating oneself in the liberal arts through disciplined, critical reading of literary classics." (Quote from the Library Journal)
My learning addict, bookaholic self was hooked.
So, I started this website to document my (fun!) journey in literary analysis, with the hopes that I'll find other like-minded people who may want to read and discuss these books with me. (Please feel free to comment on my essays and/or send me email: Kenia [at] KeniaSedler.com.)
This isn't to say that I'm a literary snob, turning my nose up at anything that isn't considered a "classic." I've read and loved the likes of Harry Potter, The Hunger Games, The Infernal Devices, Fear Street, and all of Dan Brown's novels. And I continue to read and highly enjoy such "beach reads" (or "pop culture reads," or "commercial fiction," or whatever you want to call them). I'm just not writing about those books. This site is about my journey through the classics, and my attempt (attempt!) at giving myself a classical education.
To see which classics I'm reading, take a look at the The Literary Project page for the (admittedly daunting) book list!