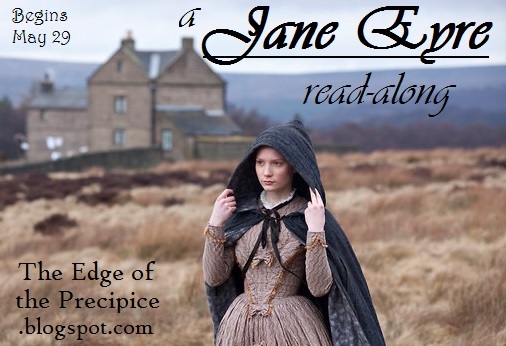 I'm so excited to be joining my first read-along in a couple of weeks!
Hamlette, over at The Edge of the Precipice, is hosting a read-along for Charlotte Brontë's Jane Eyre starting on May 29th. I assume it'll work like this: as we read, we write our own chapter reviews, and then we read and engage with each others' reviews. The "engage" part is really important, because not only will we help each other think deeply about the book as we go, but hopefully we'll make bookish friends along the way too!
It'll be incredibly refreshing to participate in thoughtful discussion with others about a highly regarded classic…one that I have never read! It's on my Literary Project list and is quite far down the chronological line having been published in 1847 (#119!), but of course I couldn't pass up such a great opportunity to engage with fellow book lovers so it's getting bumped up to the top.
This is a classic that has been made into many movie adaptations and, on top of never having read the book, I've never seen a single one of the movies either. (I'm going into this read-along truly not knowing any plot details!) The trailer for the latest 2011 film looks intriguing, and I look forward to watching it as soon as I'm done with the book.